6 Strategies and Tactics to Boost Fundraising 
Use Data to Clone Your Best Donors 
Start with What You Know
Get Relevant and Actionable Insights Into Your Data
Acquire Relevant Prospects for Your Nonprofit
Use Our Martech Stack to Reach Potential Donors Where They Are 
What's Next? Better ROI and Responses with New Donors
---
Wouldn't it be great if you could just clone your best donors? With the right data strategies and tactics in place, you can. The CTRACdirect team can help you:
Create a list full of potential donors that are like clones to the donors you already count on for support
Help you reach potential donors at their home address, on social media, and through the USPS email even if you don't have their email address or social media profiles in your current list
Convert your website visitors who were "just-looking" into donors
In this article, we'll describe how to use your existing data to "clone" your best donors and reach them in highly relevant channels. You'll learn about the kind of MarTech available to you to turn your campaign into a multi-channel campaign for much less than "agency" pricing. Finally, with all the new data and traffic you'll be experiencing, we'll show you how to manage the data to create actionable insights with future campaigns.
Use Data to Clone Your Best Donors 
If you're reading this, you've probably got (or had) a few great donors that helped your non-profit grow. If you've got their first name, last name and an address for those donors, we can help you find others like them. It's not a straightforward or easy process, but it can be done! 
We'll use your data to create profiles, heat maps, RFM models, attribution models and lists of people who have similar incomes, interests and social circles -- dramatically increasing your odds to find relevant new donors
We'll append email, phone, social media contacts, whatever you need to reach these future donors
Start with What You Know
Pull your CRM Data (or years of excel files). Can you find First Name, Last Name, Home address, Amount donated? Date of Donation? With just that information, we can create some very significant profiles and insights into your data to help you find more donors. 
Get Relevant and Actionable Insights Into Your Data
We will clean your data, match it back for historical donation information, pull out donor demographic information and show you trends and/or source attributions in your data
With that analysis complete, we can offer actionable insights to help you make better decisions with your future donation and fundraising campaigns
Acquire Relevant Prospects for Your Nonprofit
Our team can now help you acquire new prospects through list acquisitions and channel strategies to capture donors where they are
Use Our Martech Stack to Reach Potential Donors Where They Are 
You already know how much work it takes to acquire new leads and engage existing donors. The thought of doing more can be daunting. Fortunately, the Martech stack has evolved and you can now message your "mail list" online in social media and ads at the same time you release your mailing -- for much less than you would pay to do manage those channels individually. 
Our platform empowers you to integrate mail and online together so you have much better tracking and reporting. This makes it easier to find true source attribution and donor behavior
You owe it to yourself and your organization to learn the new tactics, how they impact your ROI and decide if your organization could benefit.
You can use our advanced Martech stack to reach your mail audience in new ways, such as:

Social Media Ads and posts on Facebook, Instagram
Online Ads through Google Display Network
Targeted Online Ads delivered directly to the devices of the people on your list (Yes, we can do that!)
Informed Delivery (USPS email to individuals receiving your mail)
What's Next? Better ROI and Responses with New Donors
Your new leads and touchpoints will generate a significant amount of new information you can use for better ROI and future planning. Ask us to help you manage and interpret your data so that you know what's working and where.
New and more engaged donors are within reach. Contact us today to begin planning for more relevant fundraising.
---
Join Us For The CLE Nonprofit Summit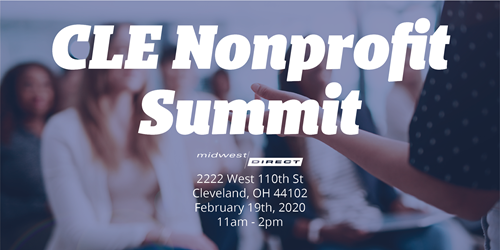 Join other CLE NonProfit Professionals as we introduce proven marketing strategies used by nonprofit organizations that find more donors, use multiple channels to bring in donations and find a way to get that done with a reasonable budget and effort. Lunch will be provided.
Can't join us in person? Register for the private live stream where you can join other CLE NonProfit Professionals online with Online Livestream Admission at registration.
Sessions
How to Clone Your Best Donors With Marketing Attribution Tactics With Gary Seitz, VP Data and Analytics
Omni-channel Fundraising Campaigns Made Easy With Erica Switzer, Digital Sales Manager
Real-life Case Studies and Your Questions
Where: Midwest Direct, 2222 W. 110th Street, Cleveland, OH 44102
When: Wednesday, February 19th, 2020 from 11 am to 2 pm
Reserve your seat today and receive free mail tracking and a $50.00 coupon to be applied to data or digital marketing services with Midwest Direct.