Who should participate?
Mailers who want to qualify for a 2% discount on postage and will release mail between Sept 1 and November 30, 2019 
If you're mailing between September 1 and November 30th, 2019 your mail may qualify for a 2% discount in postage via the USPS®. Registration for the USPS Informed Delivery® program begins July 15 and ends November 30, 2019. If you're mailing with Midwest Direct, we can auto-enroll you for this program and discuss with you not only the USPS® program but any additional channels and tracking you may wish to add. With this campaign qualifying for a 2% postage discount, you can make a good case to spend those dollars on additional engagement and reporting!
What is Informed Delivery®?
Informed Delivery® is a new email channel offered by the USPS®. Over 16 million people have already opted-in to receive this daily email that enjoys a 70% open rate! The email contains grey-scale scans of the mail to be delivered to the home on that day. Here's the good news -- the USPS® allows marketers to upload a full-color image of the mail to replace the grey-scale scan  -- and you can add a link with an offer to your landing page. This has a big impact on engagement with your mail piece and adds an additional channel and touchpoint to your campaign.
Access Your Audience in a New Email Channel
With Informed Delivery®, your customer will receive an email and your mail on the same day. The recipients will consist of anyone on your mailing list who has opted-in for the USPS® email. When you upload your mailing list, you'll know how many are enrolled to receive the email in advance. This email doubles the chance that the recipient will act. For example, if they are out shopping and forgot your postcard, they can just open the email!
Manage Your Brand
Did you know your brand is appearing (rogue) in a new channel? Unless you participate in the Informed Delivery® program, your brand will appear in millions of consumer inboxes as a low resolution, grey-scale scan (often with streaks) of the front of your mailpiece. Participating in Informed Delivery® gives you the chance to upload your artwork to replace that scan (some restrictions apply) and add a link to a landing page. You can also add text or an offer in the resolution URL link box. For example "Get 20% Off and Shop Now!"
Engage Sooner and More Often
Recipients usually receive the Informed Delivery® email in the morning. This means they probably get the email before they receive the mail. Our clients have reported conversion clicks before the mailpiece is in the home. Additionally, having your message in two channels greatly improves the odds for conversion. For example, if they forget the offer on the postcard, they need only to open their email on the phone!
Segment Users for Personalized Messaging
We know your campaign may include variable data and/or images to be printed and mailed. Now your Informed Delivery® email supports delivering variable emails within the same send as well. As this is sorted via the serialized IMB codes, we recommend that you work with a professional mailer before creating your segments.
Use Midwest for Multi-Channel and Get More!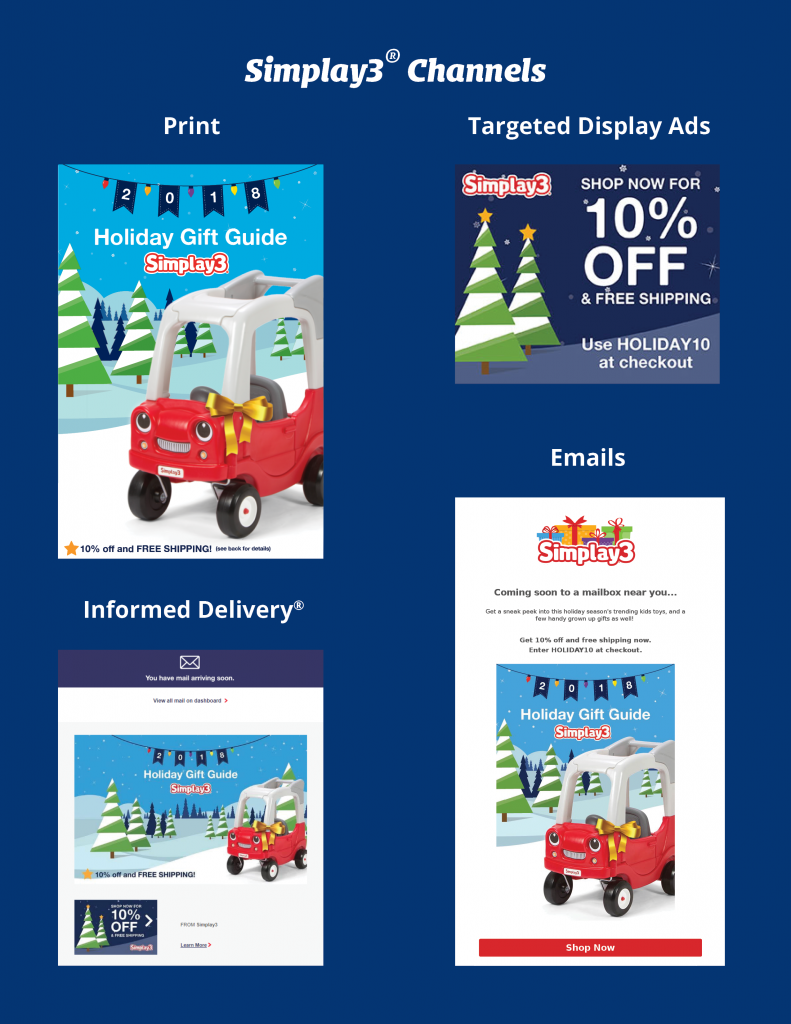 Midwest Direct believes in the power of multi-channel campaigns. We offer Informed Delivery® as a stand-alone service or as part of our multi-channel campaign package. Our package includes a dashboard with tracking views for these services:
Mail
pURLs/AR clicks
Informed Delivery® Email
A Landing Page
Targeted Online Display Advertising
Email Blasts
Email triggered by dates or customer journey events
When we manage your Informed Delivery® campaign, you can:
Add channels, such as traditional email and online display ads targeted to ONLY your mailing list
Use our landing page for enhanced tracking and reporting
Let's Get Started!
While a multi-channel campaign may seem complicated, we're here to help guide you. If you're considering a powerful multi-channel campaign, we encourage you to reach out and discuss it with our marketing experts as soon as possible. We can help reduce stress and share best practices and results!
Requirements to build Multi-Channel Campaign
For all channels:
Your list with home mailing addresses and emails when available
Your timeline with exact dates for mail/email releases and/or online ads for online advertising. (Download our sample timeline below). Be sure to include your requested mail drop dates, your proposed start and end dates for online advertising and your proposed campaign offer end date.
Informed Delivery®
Your print/mail artwork
Your landing page URL or ask us to build it for you (we'll contact you to discuss artwork/text for this page)
Your offer (if included) to add to your Informed Delivery® email
Email
Your total sends
Your artwork/text or HTML export
Emails to blast to all recipients
Event-triggered Emails
Date-triggered Emails
Targeted Display Ads
Ad Artwork (static, video or native) 
Start and end dates
Informed Delivery® Creative Guidelines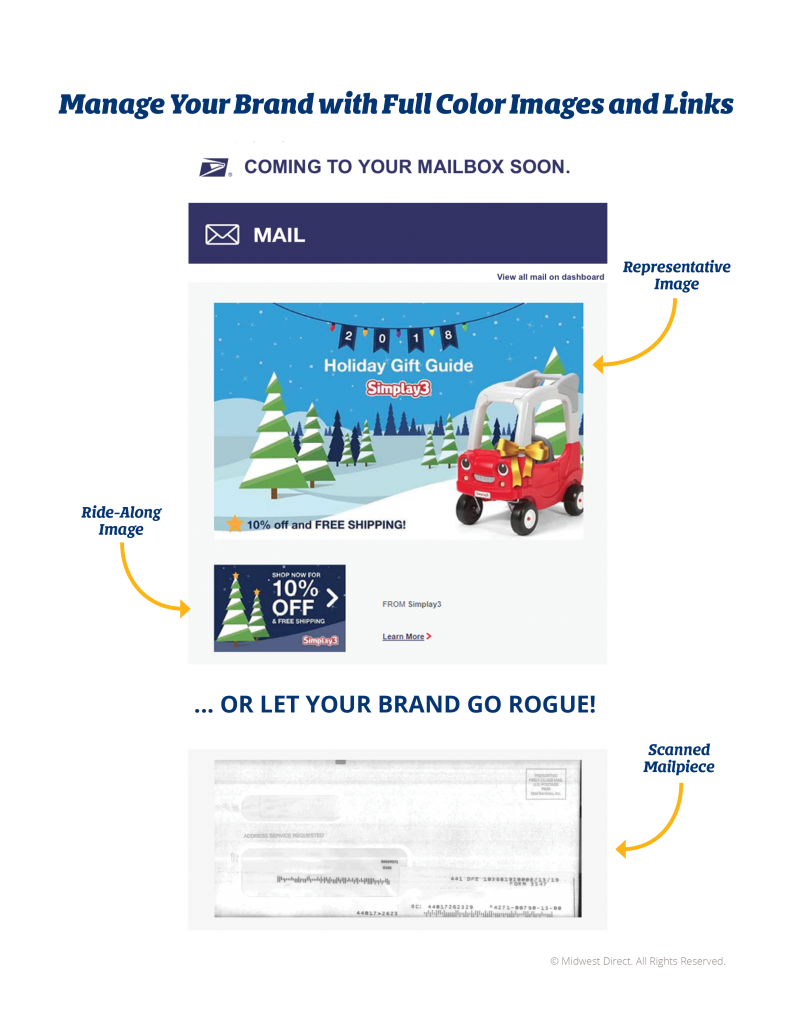 Ride-Along Image
USPS® requires that Informed Delivery® campaigns include full-color interactive content that accompanies the scanned mailpiece or Representative Image. When users select the Ride-along Image, visible in a daily digest email or on the dashboard, they are redirected to the target URL.
This supplemental content is meant to enhance the customer call to action and reinforce the business objective of the mailpiece. For optimal quality within the digital setting, follow the recommendations and requirements below:
Sync the look of the Ride-along Image to the mailpiece or Representative Image presented
Treat the Ride-along Image like a branded, clickable button with a call to action
Opt for a clean, simple layout
Provide a direct URL related to the desired user action
Size to 300px width by 200px height (max dimensions allowed: 500px by 500px)
Required:
Save file as a JPEG (.jpg)
File cannot exceed 200KB in size
Image color code must be RGB (not CMYK)
Representative Image
USPS® allows you to enhance your Informed Delivery® campaign with a full-color image that displays in place of the scanned mailpiece (i.e., letters and postcards). Users can view this content in a daily digest email or on their dashboard.
For optimal quality within the digital setting, follow the below recommendations and requirements.
Use a color image of the mailpiece so readers correlate the digital image with what arrives in the mail. Note: The image must be branded and directly related to the mailpiece and its contents.
Sync the look of the Representative and Ride-along Images to each other for a cohesive experience.
Size to at least one maximum dimension: 780px width or 500px height
Required:
Save file as a JPEG (.jpg)
File cannot exceed 200KB in size
Image color code must be RGB (not CMYK)
Ask Us How to Get More From Your Mail
Ask us for our Informed Delivery® with Midwest Direct ebook at info@mw-direct.com or call 800.686.6666 to get started! Learn about the USPS Informed Delivery® program and see how we were recognized by the USPS® Chief Customer Officer and Executive Vice President for our use of Informed Delivery® inside a multi-channel campaign using advanced reporting and analytics.
---
USPS Informed Delivery® Resources
2019 Informed Delivery® Promotion Requirements