Finding new patients for your business is mission-critical. But doing what it takes to be successful at that takes a lot of time and money. If you could buy one list, add your existing patients into that, send out postcards and have online ads running to the people on your list as well as people who visit your site for up to sixty days, would you be interested? What if that tool also added call tracking and recording?
We offer healthcare business owners like you a proven method to do all that and give you a dashboard to view exactly what's happening and WHO is clicking.  See a patient looking at your site that you haven't heard from in a while? Pick up the phone and call — and know they could be seeing you in email, online display ads, Facebook and Instagram for a month. And you can extend that experience on Google for up to sixty days!
Contact us today and ask us for a live demo and learn how we do this for other healthcare business owners like you every day! Make your next mailing your most powerful one with digital+post.
Real-Life Case Study: Borealis Dental Studio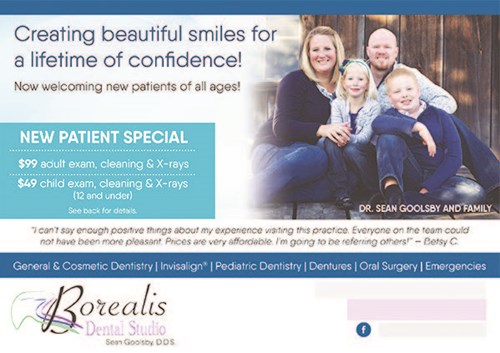 The Challenge
Borealis Dental Studio wanted to find a new way to reach out to new patients that differentiated them from their competitors. 
The Solution
They decided to test out digital+post's omnichannel marketing program for one year and see their results. Over that year they sent out a mailing each month and mailed out 39,650 postcards. 
The Result
They received 759 prospect calls through the digital+post Call Tracking number and had 1.2 million Google Ads served all over the internet. They saw a 143% increase in monthly new patients, and received a return on investment (ROI) of 998%! The campaign generated an average of 68 new patients booking appointments each month, many of whom directly say they received Borealis's dental office postcards. This was so successful, another doctor joined the expanding practice's team! And thanks to their enhanced digital presence, they've increased from 0 to 29 Google reviews with an average 4.9-star rating — making Borealis Dental Studio one of the top-ranked dental practices in the area.
Revolutionize Your Direct Mail
Increase new patient numbers and simplify your marketing with digital+post. Our automatic lead tracking and online display ads in Google, Facebook, and Instagram take the worry out of getting new patients each month, leaving you with more time to spend on what you do best.
Learn how other healthcare businesses have used digital+post to boost their results, download our Healthcare Services Case Studies. Call today and learn how easy it is to start marketing with digital+post!