Finding new students for your school or university is mission-critical. Our seven digital+post campaign tools make reaching your prospective and current students in multiple channels EASY.
We even capture visitors who come to your site and serve them ads online and on Facebook and Instagram. You pay for one campaign that runs for sixty days with many different touchpoints and you can see the results for everything. It's never been this easy. 
When you sign up for a digital+post campaign, we give you a dashboard to view exactly what's happening and WHO is clicking.  See alumni looking at your website that you haven't heard from in a while? Pick up the phone and call — and know they could be seeing you in email, online display ads, Facebook, and Instagram for a month. And you can extend that experience on Google for up to sixty days!
Contact us today and ask us for a live demo and learn how we do this for other schools and universities like you every day! Make your next mailing your most powerful one with digital+post.
---
Real-Life Case Study: Community College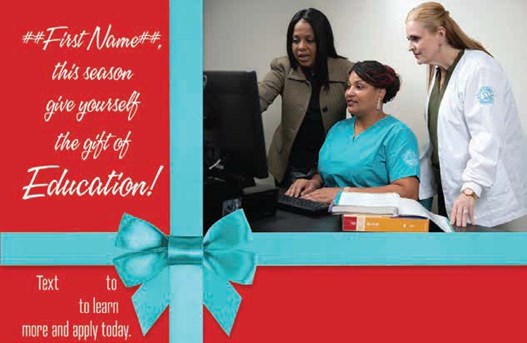 The Challenge
A community college was running their Spring 2020 enrollment campaign for the time period of December 23rd to January 21st and wanted to get the maximum engagement and enrollment for the campaign. 
The Solution
They used digital+post to target a list of 3,377 students prequalified for financial assistance. The online college personalized and direct mailed postcards and placed ads in Informed Delivery emails connected to a landing page.  Using digital+post they launched Online Retargeting ads and Social Media ads to follow website visitors around the web. They even used Call Tracking to track phone calls and SMS opt-ins. All this was done in one dashboard for real-time viewing of interactions and impressions.
The Result
The community college was hoping to use digital+post to draw in 30 new students with projected revenue of $66,000. They ended up bringing in 119 new students and received a revenue of $261,800, resulting in a 7,400% return on investment! 
---
Revolutionize Your Direct Mail
Convert prospects into enrollment and simplify your marketing with digital+post. Our automatic lead tracking and online display ads in Google, Facebook, and Instagram take the worry out of getting new students to book your current school year and beyond, leaving you with more time to spend on what you do best.
Learn how other schools and universities have used our seven digital+post tools to boost their results by downloading our Education Case Studies. Contact us today and learn how easy it is to start marketing with digital+post!