Consumers are constantly being asked to download apps, "like" social media pages, share links and scan codes. In a world where engagement is king, marketers must decide whether tools like augmented reality, virtual reality and near-field communication make sense to use in their own marketing mix, then determine how to use them.
Below is a review of technologies that, while not new, are more recently showing up in the marketing space. For some, technological add-ons like augmented reality, virtual reality and near-field communication are great for marketing strategies. For others, the expense may turn the ROI upside down – worse, a poor user experience could alienate your audience. When considering a new marketing strategy, as well as new and exciting technologies to add, the question needs to evolve from "What could I add?" to "What should I add?"
With that note of caution in mind, we've reviewed AR, VR and NFC and how they have the opportunity to foster customer loyalty and engagement when used appropriately in a marketing strategy. 
Jump to:
What is Virtual Reality?
Virtual reality involves the use of computer technology to simulate an entirely different environment for the viewer, and includes animated scenes or 360° photographs of real places. You can interact with virtual reality through the camera of smart phones or tablets, through phone apps such as Google Cardboard, or by using devices such as the Oculus Rift.
How Are Businesses Using Virtual Reality?
Virtual reality is primarily being used by brands for two reasons: to tell a story, and to help customers make informed choices.
With so many different companies vying for people's attention, crafting a compelling brand story is becoming increasingly important for customer affinity. The stories themselves can dive into a company's mission, their charity work, or even how they help everyday people solve their problems, and are typically colorful, inviting and evoke trust. They can also help businesses to be transparent with their customers, which has been tied to brand loyalty: a survey by Label Insight found that 93% of consumers will be loyal to a brand that has complete transparency.
Virtual reality is helping brands tell their stories by letting viewer experiences speak for themselves. TOMS, a footwear company famous for their charitable acts, decided that writing about their mission to give shoes to children in need wasn't enough. They set up a VR chair in their Venice, CA storefront where visitors were transported to Peru on a giving trip, and were able to experience the many emotions involved in helping children from a small village. Going beyond simply selling shoes, TOMS appealed to the universal desire to do good, and reminded their customers that purchasing shoes from them versus another retailer meant paying it forward.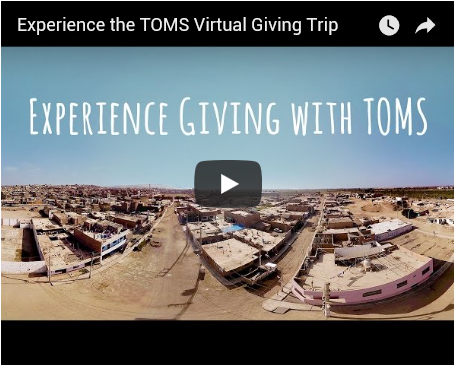 For industries that sell experiences, such as resorts or concerts, virtual reality has allowed customers to make more informed decisions by viewing every aspect in detail through their own eyes. Hotels, in particular, have jumped on the VR bandwagon, particularly due to overwhelming competition from Airbnb. For the past year, hotel chain Best Western has been working to create a virtual reality experience for each of their 2,200 hotels in North America, along with customized music and narration. Viewers will be able to take a glimpse into each hotel's grounds, rooms, and amenities, allowing them to feel more confident about their booking choices.  
How Has Virtual Reality Been Used in Print?    
Due to higher production costs, virtual reality hasn't been as popular in print as it has been in other mediums. Software costs alone for a basic VR project range from $10,000 to $25,000, making VR too costly for most small- to medium-sized businesses.
Direct mail pieces incorporating VR must fold into a viewing device, allowing the viewer to turn the mobile video into a 360° experience. LA RED GmbH did this in their VR direct mailing promoting artist Robin Schulz's new music video, allowing recipients to experience the video from a 360° perspective. 
What is Near-Field Communication (NFC)?
Near-field communication, made popular by Android Pay and Apple Pay, is a communication and protocol technology that allows two electronic devices to exchange information. These devices can be NFC-enabled smartphones, NFC-enabled devices, or any item with an NFC tag (which contains a small microchip and does not require a power supply).
When an NFC-enabled device is placed within four centimeters of another NFC-enabled device, the chip emits a radio frequency that allows information to display on the device's screen. Whether it's a landing page, app or video, NFC chips have the ability to hold multiple commands per card and be changed whenever the programmer desires.  
Because NFC chips can be placed on virtually anything, as well as having a low cost, this form of interactive advertising offers the versatility and track-ability that companies with budgets focused on LTV (lifetime value) can justify. It is estimated that 1.4 billion smartphones have NFC chips, which means there are numerous opportunities for people to effectively interact with NFC-enabled content. 
How Are Businesses Using Near-Field Communication?
After companies discovered QR codes didn't live up to their initial hype, NFCs became the newly touted way to fix what static, app-requiring QR codes couldn't do: make interactions adaptive and easy. Smartphone and tablet users are often resistant to downloading a QR code app, opening it up and scanning the code at the time they are buying, especially in high-traffic areas such as grocery stores or places with slow wi-fi. However, people do have time to tap their phone on an NFC-enabled device.
Near-field communication is being used by companies to do everything from driving in-store sales with exclusive coupons to allowing museum visitors to interact with exhibits. Unlike virtual reality, which requires high production costs, NFC can be as simple (such as a landing page) or high-tech (an interactive Lexus GS touch display) as a business would like it to be. NFCs offer any type of business the opportunity to boost engagement and analyze information about customers and prospects, especially due to its geolocation capabilities.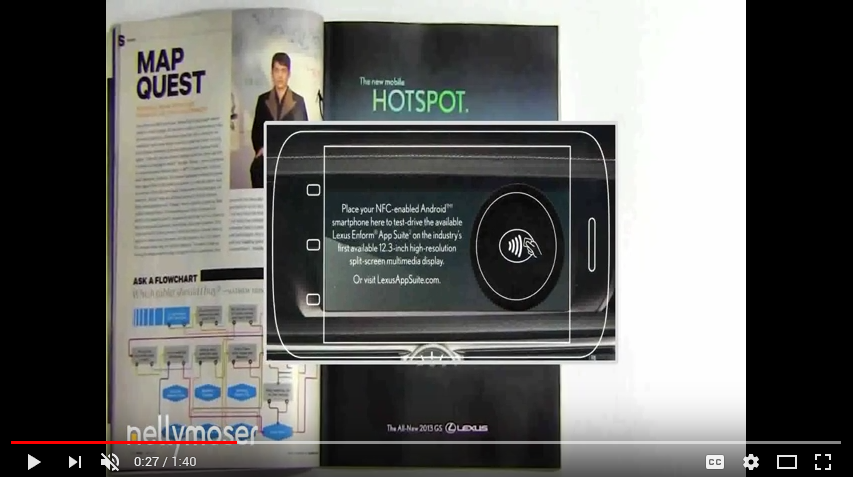 The main obstacle for NFC is that many people still do not know what it is. According to a study by ClearChannel and PosterScope, only 51% of smartphone users know about NFC, and 60% of people with NFC-enabled devices didn't realize they had it on their phones. However, 85% of them would be willing to interact with NFC marketing if it helped them get special offers, access local information or get directions. It's clear that the opportunity for NFC to become popular is there – it just needs to get more face time with smartphone owners.
How Has NFC Been Used in Print?   
The most common form of NFC used in print now is to create NFC-enabled tags placed directly on paper with a sticker. When placed on direct mail pieces or posters, near-field communication can multiply impressions by guiding readers to interactive content that may not have been as engaging when used in print alone. For pieces such as sales collateral or posters, NFC increases the lifespan of the print piece by allowing the company to update the digital content at any time.
Businesses big and small have used near-field communication to drive engagement in print. Nuffield Health ran an NFC-enabled ad in the 2012 Marie Claire UK magazine promoting their gym membership. NFC phone owners were able to tap on the page to immediately gain access to a two-day membership pass, and Nuffield Health was able to gain instant results on the effectiveness of their campaign.
Social Passport, an app that allows users to instantly like, tweet or check-in from any social media network without downloading individual social network apps, placed an NFC-enabled poster outside of areas where tourists may be looking to discover new places. When people tapped their phone to the poster, they were given the chance to download the app and get a free breakfast. Using NFC was perfect for their target audience of people on the go who may have dismissed the offer if they had to stop, search for and download the app. 
What is Augmented Reality (AR)?
Augmented Reality is an enhanced version of everyday surroundings created by placing digital information onto an image or scene, done through a smartphone or tablet's camera. The difference between AR and VR has to do with the environment: with virtual reality, the viewer's environment is completely different from the one the user is currently in – in other words, they are co-existing in reality and virtual reality. With augmented reality, the existing environment is "augmented" to include digital videos, images or text on top of the objects and scenes they see around them.
People use augmented reality more than they think. The popular mobile game Pokémon Go is the most well-known example, along with filters found on Snapchat and Facebook Messenger. According to Juniper Research, AR is projected to grow to more than 2 billion app downloads by 2021 and expand beyond smartphones into spaces such as smart glasses and head-mounted units.
How Are Businesses Using Augmented Reality?
Augmented reality has primarily found success when used to showcase products, add a new layer of customer interaction, share guided tours and maps, and help people make informed decisions on high-consideration items.
Retail, in particular, has found success with augmented reality. In 2014, IKEA used AR in their catalog so readers could see how more than 400 products looked in their home. By holding up their phone's camera to their living room or kitchen, people could make a better decision about what furniture, colors, and patterns would look best.
While it's impossible to expect people to stop, scan and interact with every product they are using, businesses have realized that children may have the luxury of doing so more than adults. Dutch Lady Flying Farms, a Vietnamese milk company, realized they needed to stand out from other children's toy and food brands to create brand loyalty. They created an app that used AR to let children collect and interact with 30 flying farm toys included in the packaging, which generated a 19% increase in sales and more than 40,000 downloads.
How Has Augmented Reality Been Used in Print?   
Thanks to recent USPS promotions, it is estimated that more than 1.5 billion pieces of mail will incorporate augmented reality. However, most direct mail pieces have used AR for entertainment purposes more than functional purposes, such as guiding customers to landing pages. While holiday cards with a dancing snowman may seem cute, recipients may feel differently about installing an app just to view a cartoon.
To combine AR with print successfully, businesses should not rely on AR alone, but combine it with other techniques, such as variable data and a specific CTA (call to action). A great example of this is the Zoo Brew direct mail campaign created by Xerox and AR app developer Solimar Systems.
The direct mail campaign consisted of three different versions, each with two-sided personalization. On the front, recipients could view a static 3D rendering of an animal with a variable video linked to a donation page. On the inside, readers could scan the mail piece to view one of three videos featuring personalized text. These videos included special ticket offers, as well as a personalized URL link. By combining augmented reality with personalized videos, text and links, Xerox and Solimar Systems created a direct mail piece that felt cohesive and genuine.
Conclusion
The emergence of virtual reality, augmented reality and near-field communications have allowed people to interact with brands in an entirely new way, and through various mediums including print and packaged goods. However, there is still a long way to go for these technologies: consumers are still more aware of QR codes than AR or NFC, and large production costs may make marketing through VR only feasible for large businesses.
The best way for companies to approach these interactive technologies is to include them as part of an omnichannel marketing plan in which personalized URLs, social media, email marketing, direct mail and mobile applications work together to create a seamless, multi-touch experience for the end-user. 
Before you add these to your toolbox, consider the following:
Will my audience have the right tools to easily access the experience I'm offering? Will they require a smartphone with an app to begin the experience?
Does my offer or experience have enough value that it's worth launching an app and engaging with the campaign?
Will the local environment support the technology – for example, if most of my audience will be on a local wi-fi, will there be enough bandwidth to support streaming a video?
Is the lifetime value of my audience high enough to justify the expense of building these experiences into my marketing strategy?
If you answered yes to the above questions, then you (and your audience) are a good candidate to consider adding AR, VR or NFC to your marketing strategies!
Read next: Can Omnichannel Marketing Save Brick and Mortar Retail?