The marketing department at Midwest Direct is familiar with the concept of working from home since between the three of us, we work from home at least some part of the week. In fact, most of our blogs and podcasts are written, edited and recorded away from the office — since the sales team drowns us out. (Just teasing…:) When the craziness of the world forced us to work from home for a few weeks, we were well prepared to take on the challenge. 
However, that can be tricky, especially when it comes to keeping yourself on track and accountable to teammates. Pets, family members, or the nagging desire to go outside on a nice day can prevent you from being your most productive. We have found ways to keep it all moving. Here are some of our favorite tools, supplies, and other fun things that help us stay productive and accountable while working from home. 
Online Tools
Trello: We have used Trello in the marketing department for a while now to keep track of the various projects we have ongoing. When we knew we would be transitioning to working from home for a longer period of time we thought we would create an additional Trello board for our current projects. Why do we need another Trello board? Well, in the office we previously used Trello at a higher level to track overall projects, but the actual shuffling of work was pretty smooth with the three us sitting side by side. Suddenly, we needed a detail-level system to keep projects moving. We each have a tab for our to-do list and our completed projects. We're basically passing the project through these boards until complete. Simple enough, but efficient! At the end of each week, we compile the completed projects into a report and then clear them out of the Trello board. This report is presented to most of Midwest's management on Monday morning to keep us accountable.

Google Drive: All of our blog posts, notes, newsletters, trade show prep and more are always drafted in Google Drive. This is a great way for us to collaborate on documents and keep us all on the same page. For example, this blog post is being written in a Google Doc right now; when it is done being written, it will be shared with the other members of the marketing team to be reviewed and edited. (See Trello board above!)
Google Hangouts: Since face-to-face meetings have been difficult, Midwest has turned to Google Hangouts to communicate more effectively. The sales and marketing teams have been meeting on Google Hangouts daily to check-in and go over the plan for the day. In addition to the video/phone conferencing, we have been utilizing Google Hangouts Chat for quick updates or questions throughout the day. This has been a great way for us to keep in touch and on the same track. 
iPhone Conference Calls: There are only three people in the marketing department and we don't always need to have a formal conference call. We take a more informal approach with the simple feature of merging calls on an iPhone. You can merge up to five calls, although we have never needed to, by simply pressing a few buttons while on the phone. It's a really simple and easy way to set up a conference call.
Youtube Livestream: We've been recording podcasts for about a year now. Recently, we tried our hand at live-streaming a live event using YouTube. We'll admit, we were a little nervous on our first broadcast so we hired some outside help to help us manage the audio. With multiple speakers and a live screen share of our powerpoints, we needed a little backup. However, it went really well and we learned a lot. We're now a little braver and our small (but mighty) marketing team is adding LiveStream to our list of channels we'll use more regularly. It's another great option! If you want to learn more, check out the tutorials available from Youtube. 
OBS (Open Broadcasting Software): As listed just above, if you want to live stream video and integrate better audio and screen share in a viewer or window, you'll need a plugin to help. We are fans of OBS. We admit, you need to be about an "intermediate" at AV software set up to pull all this off, but it's well worth working on it to upgrade your online events and presentations. Click the title link above for a quick start guide to help you get going. 
Our Favorite Supplies
At Home Printers: I don't think we have ever gone a full day without printing out at least one thing in the Marketing Department. Yes, we probably could do most of the things we need to do without printing, but we have noticed throughout the 100+ blogs we have written and edited there are things we catch on paper that we would never catch on a computer screen. Things stand out differently in print, so having a printer at home has been a lifesaver.
Colored Pens: In the office, we have a really big color-coded whiteboard calendar that houses the schedule for our editorial calendar that we can edit as needed. Unfortunately, it had to be left at the office, leaving us with just pictures of it that are pretty tricky to edit. That is where printed out calendars and colored pens come into play. We could keep the same color-coding and update the calendars as needed. We still missed our whiteboard but colored pens help get us through!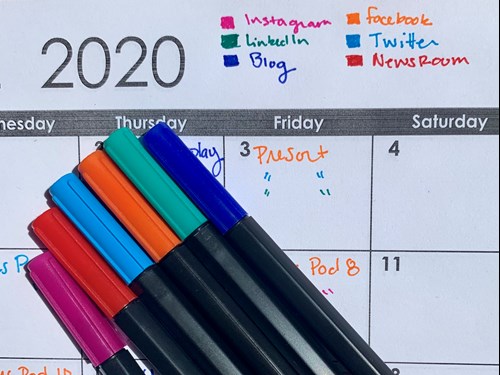 Notebooks: On the same theme of "we like things to be in print and tangible", we put our notes and "today" to-do lists on paper, too. In the office, you'll see us with both, tablets and paper notepads to take notes in meetings. Nothing has changed while working from home. Keeping everything organized in one notebook helps us stay on track. 
Headphones: While working from home can often be more relaxing and quieter than working from the office, it can also be distracting if there are other people in your household. To minimize the distractions of conference calls on speakerphone or dogs barking, we use headphones. They don't always cut out all sound, but they do help mitigate some of the noise and distraction. They also make it easier to move around and be hands-free when we have to jump on a call. 
The Fun Stuff
Podcasts: Working from home can get loud, but it can also be too quite. When you're used to the hustle and bustle of the office, being in a quiet place can be just as distracting as a loud environment. To help combat this, we often find ourselves listening to music and podcasts, including our own podcast. We have over 20 episodes of The Plus Podcast, so if you haven't checked it out yet, now is a great time to start! And we just put out a new episode on some tips, insights, and tricks on working from home directly from the Midwest Direct employees. 
Coffee Maker: Getting out of bed every day can be a struggle whether you are going to the office or not, but at least when you are going to the office you can stop at Dunkin or McDonald's on your way in for that much-needed cup of coffee. While working from home, we have a newfound love for our at-home coffee makers — and electric tea kettles. Now is a great time to invest in the French press you always wanted. After all, think of all the money you've saved skipping Starbucks this month!
Online Tip
Before we sign off, we just wanted to add a few tips about living your work life online. We've noticed some good (and not so good) trends with online conferences. Check out our podcast to hear from our team members and what they are doing to manage working from home better. Here's a brief summary:
Run a schedule as if you were going in.

Many of us mentioned that we're keeping a "regular day", but we've noticed we're starting a little earlier (while the house is still quiet) and ending a little earlier (while it's still daylight).

Get ready for work.

This goes along with getting ready for your conference call. In other words, wear a collared shirt or some work-related swag.  A professional appearance is just as important now as ever! 

Have some fun.

Host your own online happy hour with teammates or send out a team lunch invite and Uber Eats the team lunch to their home "office" and eat/meet together for the hour. Keeping teammates up to date and in the loop is easier when there's a little camaraderie to go along with the work!
Set yourself up with the correct tools and a good mindset, and your days at home can be even more productive than your days in the office. Go be productive… but first check out the Working From Home, Insights from The Midwest Direct Team podcast and the blog on Our Favorite Marketing Tools of 2017.