Midwest Direct and Wigs for Kids, a local charitable organization, have a long-standing relationship. Midwest Direct founder, Jim Gebbie, and Wigs for Kids founder, Jeffrey Paul along with many long-standing board members and Wigs for Kids staff members have logged many hours over 30+ years to build and grow Wigs For Kids. This charitable organization provides high-quality hairpieces to children suffering hair loss for medical reasons such as cancer, alopecia, trichotillomania, and others.  
Over the years, our engagement with Wigs for Kids has evolved from mailings to data services and now, as pictured here, to operational support.  The photo shows the Wigs for Kids room located in the heart of Midwest Direct. Every day, our team processes hair donated to Wigs for Kids. Our team loves to do work that directly impacts the lives of children in need.  
We recently added photos of several hairpiece recipients. It's wonderful for us to see the faces of those whose lives are affected by the hairpieces WFK provides. We also created a mural of some of the letters of gratitude from recipients -- as well as the kind words and thoughts sent in by donors. Overall, the room is a wonderful space where the Midwest Direct team and the many good deeds done by others mix.  We're thrilled to extend our mail & data services to include operational support to Wigs for Kids.
Our team processing the hair in the new Wigs for Kids room.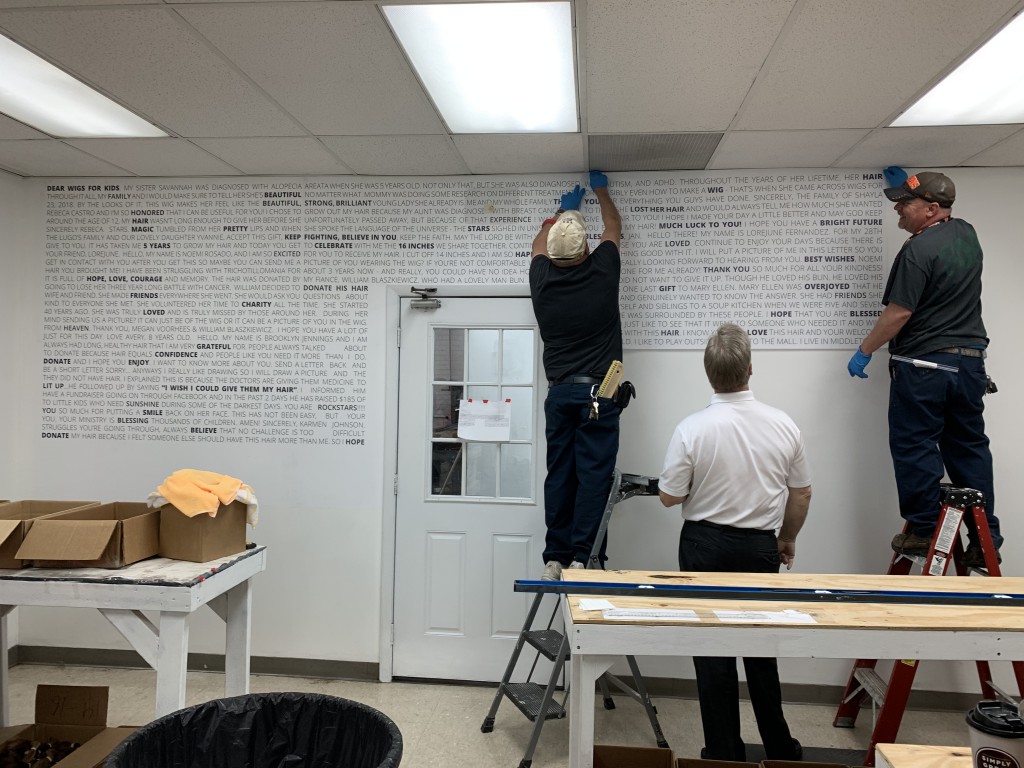 The wall mural installation in progress.
Want to help us help the children of Wigs for Kids? Donate online or contact them.